COMMUNITY
As a PNG company Hornibrook cares about our surrounding community and desire to improve the living standards of our people.
Hornibrook NGI actively supports numerous local charities and the community in various ways including; the employment of people with disabilities as well as HIV Positive workers. Hornibrook NGI is also a founding corporate member with the PNG Occupational Health & Safety Association as well as being involved with numerous local community groups . In addition to being an equal opportunity employer, Hornibrook NGI encourages women in the workforce and provides opportunities for women through apprenticeships and training in all divisions of the company.

BAHA
BAHA (Business Coalition against HIV AIDS) are a not for profit organisation representing the private sector in Papua New Guinea's response to HIV/AIDS. The BAHA Lae office is fully supported by Hornibrook NGI and is also located on the Hornibrook Head Office Grounds.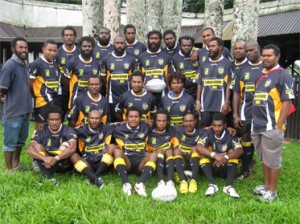 The Hornibrook Harlequins Rugby Football Team
The Hornibrook Harlequins Rugby Football team are sponsored to give unemployed youths self esteem and an opportunity to succeed. The Harlequins team have won both the A and B grade grand finals for the past three consecutive years.