PNGS PREMIER STEEL FABRICATION COMPANY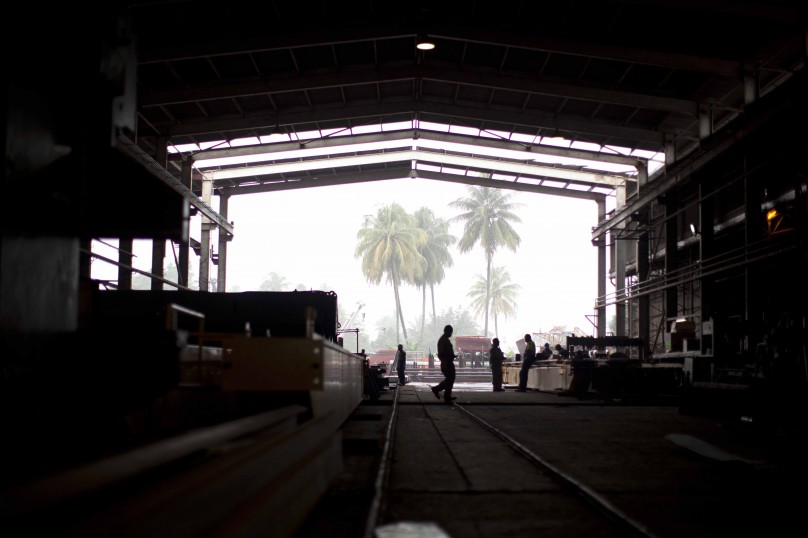 With a covered main Steel Fabrication workshop of 6,400 square meters, the company's steel fabrication facilities in Lae are the largest in PNG. We service all levels of the steel market from small jobs such as security and spiked fencing, to major projects which include such diverse items as the processing tanks for Tolukuma, hard ore hoppers for Lihir, conveyors for Porgera, or pipe spooling for Chevrons Kutubu.
Our capabilities are varied as our projects and include:
Turnkey projects using partnering and subcontracted mechanical and electrical services
Welding using stick, sub-arc, MIG and TIG processes
The Fabrication to Aust (AS) and US (API) standards, of a variety of steel al-
loys (e.g. Bisalloy wear plate), steel grades, stainless steels and aluminium
Workshop or on-site blasting of steel using steel shot or garnet
NACE qualified corrosion management advice and services. This includes such projects as the repair and repainting, of Lihirs CIL tanks with a hard glass flake paint to protect
the mild steel shell of the tanks from the abrasive material being processed
Electronic transmission of AutoCAD workshop drawings to minimise delays
Motor Transport Engineering
Hornibrook NGI have manufactured and repaired motor transport engineering since 1990
Our Capabilities include:
A retail truck and trailer spare parts outlet in Malaita Street, Lae
Structural and hydraulic repairs of trucks and trailers
New Bodied products which comprise:
Fuel tankers with mild steel barrels,
Elliptical tanks for road transport of fuel
Demountable drop deck trailers as used by the Porgera subcontractors
Skel and tri-axle semi trailers
"B Double lead" trailers
Low loaders to 75 tonne load capacity by 3 metres wide
Timber jinkers to 70 tonne load capacity
A variety of dump and tipping bodies
Truck flatbed decks to 27 feet in length
Utility coffee bodies
Farm and agricultural trailers such as 'dog trailers'
40 Tonne 'Clean line' fruit bins for the oil palm industry
Permanent or removable PMV frames for passenger transport
Bridges:
Hornibrook has been fabricating and erecting certified truss type bridges in PNG for decades. Examples of these sturdy bridges
can be found along the Ramu Highway between Lae and Madang. With piled abutment s and internal walk- ways, the bridges do
not suffer the same wash-away or vehicular damage of the more temporary bailey type bridging, and in fact the Hornibrook bridging was designed specifically for PNGs particular conditions.
Tanks:
Our fabrication division also fabricate several different styles of Tanks including:
T5/T10/T20/T55 /T308 / T100 Overhead Fuel Tanks
T10/T20/T30 & T55 Underground Fuel Tanks
T18 & T20 Demountable Fuel Tanks
Vertical Fuel / Chemical Tanks of Various sizes.
For further information please contact Hornibrook NGI Fabrication Division.